Best Food Photography/Styling Personal
"The throw"
The art of artesian Hand Made Pasta.
Poached Pear
The translucency of poached pears and their different colors are explored in this personal project.
Something Missing
First in a series exploring the complexity of emotions surrounding grief and loss.
American Diet
Wait, is that...Spam?! Twinkies?! Vienna sausages?! Cup-O-Noodles?!
East Coast "A-Team"

With harsh lighting and high contrast filtering, we wanted to create the perfect cheese-pull by capturing a grilled cheese stack fresh out of the frying pan and in a state of "ooey-gooey." It came out perfectly.
COLOR SERIES - Yellow
Created for the purpose of a promotional piece.
The Hatchling
Locally grown kiwi from Canada's Salt Spring Island.
Hard Light Vegan Salmon Bagels4768
Vegan Smoked Salmon Bagel.
MrsandMrs
Marranitos, grapefruit and assorted props on a bedspread.
Honeycomb Delight
The glowing details of a honeycomb
The Secret of Peas
The number of peas in each pod is hidden until opened. Light, though, reveals this secret...
Pasta Dinner

Table view of a pasta dinner with friends. One of the shots from a pasta series.
PastaWell
Between play dough and meditation, capturing the magical serenity moment of a pasta making session.
Grilled Red Snapper with Sumac, Daikon, and Yogurt
Red Snapper is coated in sumac and grilled with lime. Served with slices of marinated daikon, Greek yogurt and steamed snap peas. Simple ingredients for a rewarding spring or summer meal.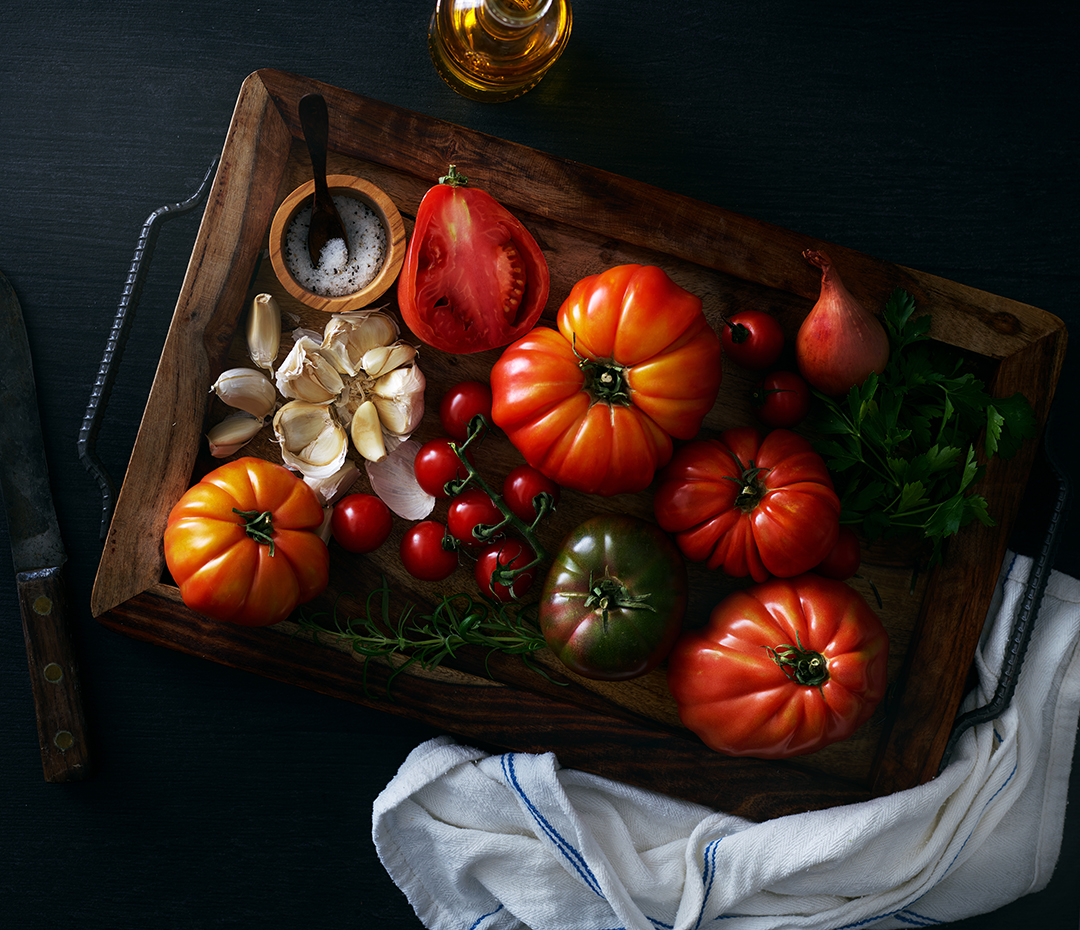 Tomato Still Life
Tomato Still life shot for studio test.
Breakfast Tacos
Breakfast tacos on colorful oil cloth
Guiness Stout Cake
This recipe for Irish Chocolate Guinness Tart was created for a St Patricks Day posting on social media. I painted a dark green surface and backdrop, added some black draping, and a vintage silver stand to set the scene. The billowy toasted Merigue topping was a riff on Guinness beer foam.